In memoriam
Adopting a book or drawing in memoriam is the perfect way to remember someone special to you.
Adopt an in memoriam book
The Institution is a special place to many people.  With an in memoriam gift you can commemorate the life of a friend or relative by adopting a book or drawing in their name. Our books and prints and drawings are catalogued online and we can help you find something special to remember them by.
For your donati0n you will receive a personalised in memoriam bookplate in your chosen book and an e-certificate, and the name of your loved one will be entered in our Benefactors Book.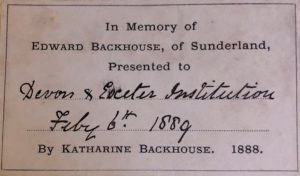 Give an in memoriam gift
We can also help you plan a bespoke gift to the family and friends of a loved one, including a private tour of the Institution to see your in memoriam book in situ, followed by tea/coffee and cake in the Courtenay Room or garden.
If you would like to discuss an in memoriam donation please complete the form below and we will be pleased to help you plan a lasting tribute.