School visits and outreach
Our free sessions for schools are available to book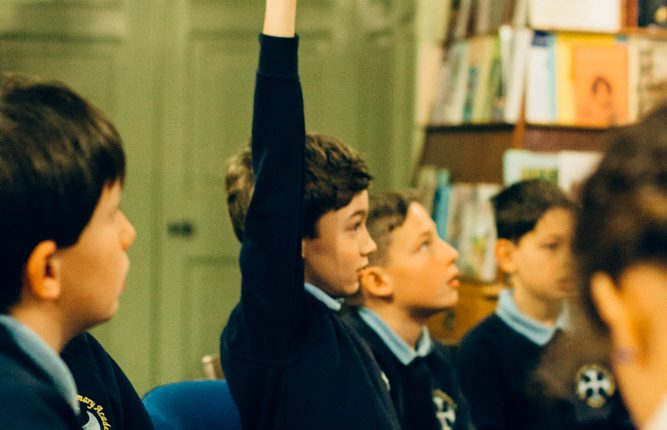 We offer a limited number of tailor-made workshops for school groups from Key Stages 1 – 5 which are currently free of charge and available on site, or as an outreach session in your classroom.
Please contact project@devonandexeterinstitution for further details.
On site sessions take place in the magical book-lined Outer Library which houses the majority of the Institution's historic collection.    Our extensive collection is used to support and enrich the National Curriculum.
Popular sessions include:
Global Lives
Using postcolonial theory, we explore our collections and find the hidden histories within them –  suitable for KS3 -5.
Books of Wonder
Find out about evolution, natural history and Darwinism- suitable for KS1 – 3.
Exeter Home Front
Find out about wartime Exeter, the blitz and contemporary accounts – suitable for KS2-3.
Beautiful Experiments
Explore the Age of Enlightenment, celebrity scientists and the origins of physical and natural science – suitable for KS2-3.
Everyone is welcome but if you are unable to get to us, we offer an outreach service to schools and community groups in the Exeter area, including tailor made sessions for:
Early years settings
Children and young people with Special Educational Needs
"Thank you so much for today. The children have had a fantastic experience and have been buzzing about it all the way back to school  They absolutely loved the reading rooms and really wanted to be able to stay longer. Thank you so much for all the work you put into the day; it really is appreciated, and we hope to make use of your fantastic resource again and again in the future. You may well have inspired some new members today!"
"It was great to explore the reading rooms and they have definitely left a lasting impression on the children.  We spent the next 2 literacy lessons producing diaries as if the children were exploring a new continent for the first time and this idea was completely based on your brilliant day. Thank you so much again – what a great resource to have on our doorstep!  We really hope to visit again."