School visits and outreach
Our schools sessions are available to live-stream via whiteboard while our building is closed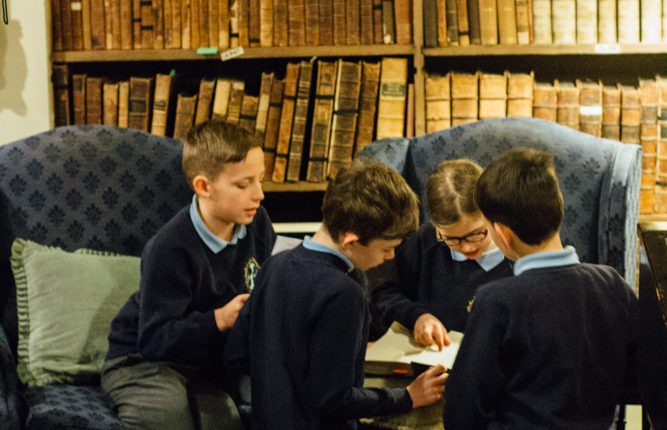 We offer tailor made workshops for school groups from Key Stages 2 – 5 which are currently free of charge.
While our building is closed we are able to offer these as livestreams into classrooms for the children still in school settings, at a time of your choosing.  
Please contact Emma Dunn, Director of Programme emmadunn@devonandexeterinstitution.org for further details.
……………………………………………………………………………………………………………………………………………
During usual opening times, we have bookable slots on Thursday and Friday mornings between 9.30 – 11.30 (sessions last one hour).
Sessions take place in the magical book-lined Outer Library which houses the majority of the Institution's historic collection.
For larger groups we also make use of the nearby Pearson Education Studio at Exeter Cathedral.
Our extensive book collection can be used to support and enrich the National Curriculum.
All sessions are led by an experienced team of Heritage Educationalists and Librarians.
Please contact Emma Dunn, Director of Programme  via email  to enquire about a booking.
Popular sessions include:
Books of Wonder
Find out about Evolution, Natural History and Darwinism.
Georgian Exeter
Find out about The Age of Enlightenment and the influence of the classical world.
Victorian Exeter
Explore street maps, population growth and Victorian newspapers.
Exeter Home Front
Find out about Wartime Exeter, bomb damage and contemporary accounts.
Collecting the World
Discover the DEI Museum and the origins of RAMM.
Early Science
Explore the Age of Enlightenment, celebrity scientists and the origins of physical science.
Preserving History
Find out how we conserve our collection and get 'hands on' with our preservation work.
Dickens at Christmas
Explore our Victorian Christmas collection.
If you are unable to get to us, we offer an outreach service to schools and community groups in the Exeter area, including tailor made sessions for:
Early years
Family learning
Children and young people with Special Educational Needs
Older people with additional needs
A downloadable Risk Assessment is available for Teachers here: DEI Schools Risk Assessment 2018
Our Safeguarding Policy is available here:  DEI Safeguarding Policy and Procedures
Funded by the National Lottery Heritage Fund