John Francis Rigaud (translator), 'Leonardo Da Vinci : a treatise on painting', (1802)
Classmark: L 6.10
John Francis Rigaud (1742-1810) was a painter and associate of the Royal Academy. Born in Piedmonte, he later travelled through Italy, honing his craft through life drawing classes and studies of the old masters. He moved to London in 1771, where he continued to exhibit his paintings, although he also enjoyed lucrative employment by producing decorative painting for the homes of the nobility.
In the preface to this work, Rigaud expresses dissatisfaction with an earlier translation into English of Da Vinci's manuscripts, believing his own translation to be 'more concisely and more faithfully rendered' and his arrangement to be more true to the originals. Care has also been taken to create accurate copper-plates from the artist's original sketches.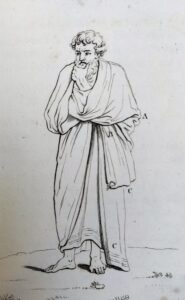 This book is in need of conservation work. If you would like to donate, or to find out more about our conservation scheme, visit our Rescue a Book page.