Volunteering
Volunteers play a vital part within the Institution with various opportunities available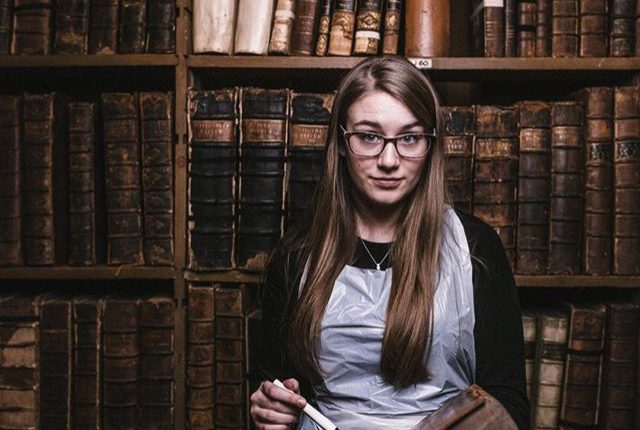 Volunteer members have always played a vital role within the Institution and we greatly appreciate it.  Volunteering here is an excellent way to get involved and help us maintain this unique and flourishing organisation.
Through various roles volunteers can help us increase the knowledge of our collection and engage with wider audiences, which is beneficial both to the Institution and our volunteers.
During our NHLF development project (2015 – 2018) we built on the volunteer roles available within the office and library, training volunteers in book preservation and book cleaning and developing a volunteer tour guide team.  We hope again to increase our volunteer opportunities through our new NHLF project "The Next Chapter".
If you are a member or student and are interested in volunteering, please see one of our staff members or contact the office  for details of all our current volunteering opportunities and how to get involved.
Current Volunteer Roles:
Office Volunteer
Library Desk Volunteer
Tour Guides
Cataloguers for our Digitisation Project
Testimonials
"I love volunteering with the DEI as it allows me to engage with the local community in a way which university focussed volunteering does not always allow for.
I have also found the DEI to be a useful working space as it offers a place away from the university with a comfortable and communal atmosphere.
I have learnt invaluable skills working as part of the volunteering team and hope to make use of the various wonderful books I have come across in future"
First Year BA English and Spanish.
"Volunteering at the DEI helped me to think about my future job decisions. I now have a very good insight into the work of archives and libraries in general, about the maintaining of historic books in particular, without even leaving Exeter – and I could make this fantastic experience parallel to my course work, lectures and seminars.
The DEI offers a great opportunity to gain knowledge and early experience about the tasks and work of a historic library within a familiar atmosphere that makes it easy to ask further questions.   I'm confident that this will help me after finishing my degree to decide for a further career"
International Erasmus student in Third Year, History.
Volunteering Form 2021
To gather details from volunteers as to what they'd like to be involved with and when they are available.