Guided tours
Discover this heritage haven and living library in the heart of the city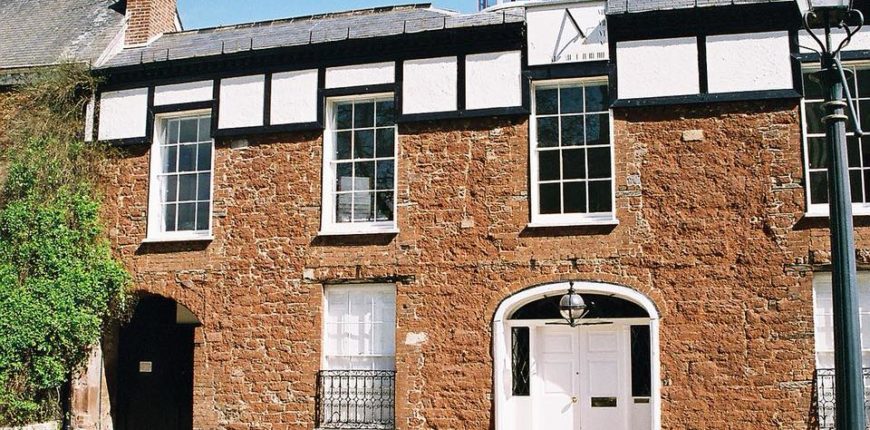 We have had to close our doors due to the Corona Virus, however, we are delighted to bring you some virtual tours, inviting you inside (and out) regardless:
Take a tour of the Institution cottage which has been residence of Librarians and Housekeepers for over 200 years…to take the tour click here.
Step back to 2016 and take a virtual tour of our roof restoration in progress…to take the tour click here.
This weeks tour helps you discern some of the history of our building by reading the walls, to find out more click here.
Free Wednesday Afternoon Tours
The Institution occupies historic premises at the heart of Exeter in Cathedral Close.  Adapted from what was once the townhouse of the Courtenay family, the library is housed in two elegant Georgian rooms which provide space for research and reading, educational activities, cultural events and lectures.
Every Wednesday afternoon we open our doors to the public for free guided tours between 1.00 – 4.00pm.  There's no need to book, tours normally last around 20 mins, but can be individually tailored to you and your interests.
Our tour guides are a dedicated team of trained volunteers, drawn from our membership.  They are passionate about sharing their knowledge and enthusiasm for the building, it's history, our collections and the Institution itself.
We are delighted to include a display of items from our historic collection of local newspapers, maps of the region, books and illustrations.
Supported by the National Lottery Heritage Fund 
Testimonials
"Amazing, fascinating, very entertaining and knowledgeable guide. Thank you!"
"So important that Institutions such as this survive, grow and continue to influence education and society."
"A lovely find.  Thank you for taking the time to show us around."
"I received a very welcome admission and was delighted to experience an interesting tour.  I will certainly be interested in membership."
Group Tours
We are happy to arrange tours for groups at other times, group tours would normally last approx 30 mins and are followed by tea/coffee and cake in our delightful Courtenay Room.  If your group has a particular interest our Library Team will be happy to curate a suitable display, so please do complete this information on the form below.
Group tours must be arranged in advance and we charge £8 per person, with numbers limited to 15 per tour.
Educational groups should look at our Schools and Outreach Programme page for more information.
To arrange a group tour booking, please complete the booking form below or  if you should have any queries please contact us on 01392 274727 or email office@devonandexeterinstitution.org