John Lloyd Warden Page, 'An exploration of Dartmoor and its antiquities', (1889)
Classmark: S.W. Heritage 1889 PAG
Alongside general descriptions of the topography of Dartmoor, this charming volume also delves into the history, customs and archaeology of the area, before we follow the author on foot as he explores 'our great mountain moorland' between the Exe and the Tamar. His journey takes him to many locations, from Okehampton to Cosdon Beacon, to Tavistock, Princetown, Manaton and Yelverton, with illustrations by A. Dawson, developed from Page's own sketches. The Somerset-born author also published a similar work exploring Exmoor, as well as a study of Devon's rivers.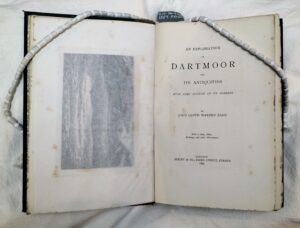 The bookplate pasted into this particular volume tells us that it once belonged to Howard John Yallop (1918-1993) a Devonian scientist who was involved in the development of the atomic bomb.
This book is in need of conservation work. If you would like to donate, or to find out more about our conservation scheme, visit our Rescue a Book page.