Using our collections
Members are welcome to study in the Library and to use our collections, including our heritage collection. Staff are on hand to assist and to answer enquiries, including by email and telephone.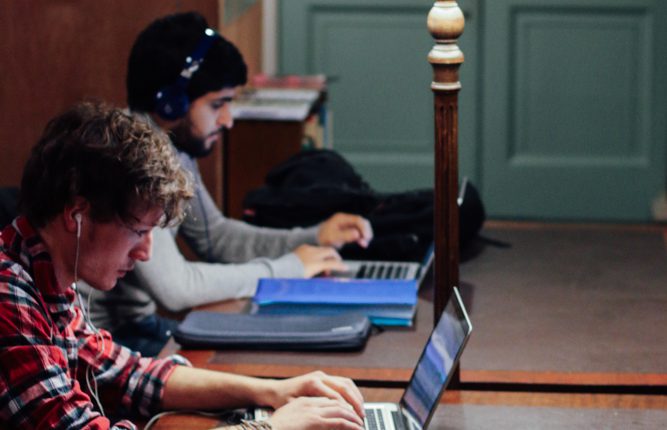 Accessing the collections 
Our modern West Country collection is on open access in the Inner Library and arranged by counties and towns. Members may borrow up to six books (and three DVDs) for a period of one month and items may be renewed if not required by another member.  Categories of material that cannot be borrowed include damaged items, journals and periodicals, pamphlets and items from our heritage collection.
Members must request to see items from our heritage collection, including historic materials relating to the West Country. Several desks in the Inner Library are reserved for users of the heritage collection and staff are on hand to retrieve items from the shelves and to provide book conservation pillows and weights to support the items during use.
We encourage Members to request items in advance by email to [email protected] or by phone 01392 251017.  A booking system operates at busy times.
Reproducing the collections
The copying of materials from our collections, including the use of personal copying equipment such as scanners, is not permitted except at the discretion of the Director of Collections and Research. Members may photograph materials (no flash) in accordance with current UK copyright legislation and for personal non-commercial use only. The Director of Collections and Research will consider requests to publish images of items in the collection.
Research facilities
Wifi is available throughout the Library and there are two PCs and two printers for use by Members; printing costs 10p per sheet for black and white and 20p per sheet for colour. We subscribe to a number of electronic databases, including Ancestry, History Today and Which magazine.
We run an enquiry service for Members by email, phone and in person at the Library desk; non-members pay a small research fee. Library staff will respond to all enquiries within 20 working days.
Study spaces
Members who do not wish to consult the collections but who would like a quiet space to work or to read may use the upstairs Reading Room and Stirling Room if the rooms are not being used for meetings. The Outer Library is also available for reading and relaxation.
Refreshments
Refreshments are for sale in the Courtenay Room at the rear of the building.  Please note that collection items may not be taken from the Inner Library.