H. M Bowdler, 'Pen Tamar : or, the History of an old maid', (1830)
Classmark: S.W. Heritage 1830 BOW
Henrietta Bowdler and her brother Thomas are perhaps best known for The Family Shakespeare in which the siblings removed anything that 'could give just offence to the religious and virtuous mind' from twenty of the Bard's plays. The term 'to bowdlerise' was thus coined, meaning the expurgation of text deemed offensive or unsuitable.
Bowdler's novel Pen Tamar was similarly guided by her Christian principles. The work has also been subject to feminist interpretations, in which the author sought to defend single women against 'some popular prejudices'. The novel is set in Devon, which is described as 'a land flowing with milk and honey; – flowing with the milk of human kindness'.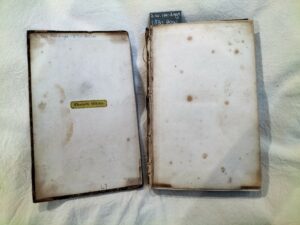 This book is in need of conservation work. If you would like to donate, or to find out more about our conservation scheme, visit our Rescue a Book page.