Members' Evening Lectures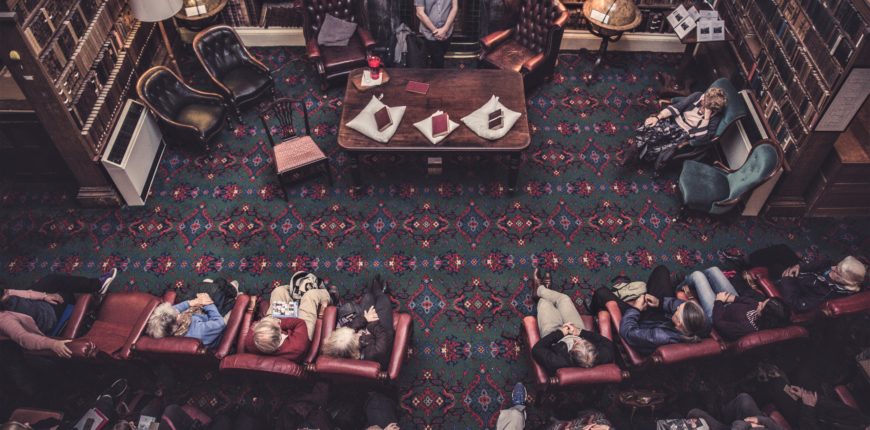 'Community Culture' - our new season of evening lectures for Autumn / Winter
Tickets £25,  to include drinks and supper provided by Eat on the Green
Doors 6pm / Lecture 6.30pm  / Supper 7.30pm
Tickets available via webcollect here:  https://webcollect.org.uk/dei  or in person, from the office
These events are only open to members and their guests and you will need to log into webcollect in order to make the booking.    
Friday October 29th 2021
Keynote Lecture 
Professor Helen Berry –  'The curious history of the English coffee house '
In this lecture, Professor Helen Berry (University of Exeter) traces the origins of the English coffee house as places of debate, newsreading, and trade from the late-1700s to the end of the Georgian era.  Coffee houses contributed to the rise of democracy – but did they also bear witness to the rise of some all-too-modern problems – fake news and public abuse?
Professor Helen Berry specialises in British history from about 1660 to 1830, and is especially passionate about encouraging people to think more broadly about British history in a global and comparative context.  Her research and teaching are closely linked, and cover a wide range of themes, from histories of production and consumption in Britain during the eighteenth century, to how global trade and economics shaped personal experiences, families and communities.  Her new book, Orphans of Empire: the Fate of London's Foundlings (Oxford: OUP, 2019) considers the connection between philanthropy, child welfare and the contribution of charity apprentices to the socio-economic development of Britain's 'inner empire' at home.  Professor Berry has an ongoing interest in transdisciplinary research on the Anthropocene which seeks to deepen our understanding of the origins and causes of our present climate emergency, working collaboratively towards ameliorative action.
Friday November 26th 2021
Dr Ellen Wiles and Professor Peter McDonald – 'Literary Communities: Past and Present'
Ellen and Peter will speak about the role of community in literary culture, and their research into diverse global literary communities, including writer-activists in Apartheid South Africa, China, and Myanmar; the role of English PEN as a literary community organisation; and the impact of a contemporary literary salon for the LGBTQ+ community in the UK.
Ellen Wiles is Lecturer in Creative Writing at the University of Exeter, and a novelist, anthropologist, curator, and former barrister. Her work explores themes including literary culture and activism, human rights, family, and climate change. She is the author of three books: Live Literature: The Experience and Cultural Value of Literary Performance Events from Salons to Festivals (Palgrave, 2021), The Invisible Crowd (Harper Collins, 2017) and Saffron Shadows and Salvaged Scripts: Literary Life in Myanmar Under Censorship and in Transition (Columbia University Press, 2015). As a curator of live literature experiences she founded Ark, a project funded by Arts Council England to stage immersive short story performances in library and gallery spaces. Her current creative research project creates immersive literary soundwalks that connect people in new ways with wild landscapes and with science research on ecology and climate change.
Peter D. McDonald is Professor of English and Related Literature at the University of Oxford and a Fellow of St Hugh's College. He writes on literature, the modern state and the freedom of expression; the history of writing systems, cultural institutions and publishing; multilingualism, translation and interculturality; and on the promise of creative criticism. His main publications include British Literary Culture and Publishing Practice, 1888-1914 (CUP, 1997), The Literature Police: Apartheid Censorship and its Cultural Consequences (OUP, 2009, theliteraturepolice.com), and Artefacts of Writing: Ideas of the State and Communities of Letters from Matthew Arnold to Xu Bing (OUP, 2017, artefactsofwriting.com). He is also co-author of PEN: An Illustrated History (Thames & Hudson, UK edition, 2021).
Friday December 17th 2021 – POSTPONED 
Jo Cox – 'A Treasure House of Stories: The Devon and Exeter Institution, architecture, people and objects'
Jo Cox is one half of Keystone Historic Buildings Consultants, established in 1989.  Keystone works on buildings of all dates and types, mostly in the South West.
We are always looking for good stories about places, whether the story the building can tell, or the tales of the people involved with it.
We will rebook this event in the Spring – details to follow.
Friday January 28th 2022
Robert Guyver and Katie Drew –  'Patteson's Way: Resisting conflict and climate change in the Pacific'
Patteson's Way was opened by the Archbishop of Canterbury on Saturday 18 September 2021 to coincide with the 150th anniversary of the death of Patteson. It goes from Feniton to Alfington and on to Ottery St Mary, returning to Feniton. Bishop John Coleridge Patteson's career as a deacon, priest, missionary and bishop took him to New Zealand, The New Hebrides (Vanuatu) and the Solomon Islands. The mission's original concern with peacekeeping has continued over the years, but the small coral reef islands and their communities are increasingly under threat from rising sea levels and conditions which might affect the survival of coral itself. This talk takes an overview of the last 165 years since Patteson's first missionary voyage in the Southern Cross and moves forward to look at what is happening in those communities today.
Katie Drew is the Executive Officer of the Melanesian Mission, an Anglican Mission Agency working in the Solomon Islands, New Caledonia and Vanuatu. Based in Feniton, East Devon, Katie has overseen the work of the charity for the last nine years. Before working for the charity, Katie volunteered in the region along with her husband, while their two daughters aged 7 and 9 attended a local school. Katie's current work for the charity includes, raising awareness of the impacts of climate change, building links between schools in the UK with schools in Melanesia, overseeing two way visits, exchanges and volunteering schemes (pre-COVID) and fundraising for training programmes, building projects and school facilities.
Robert Guyver was a primary teacher for 21 years (in West Sussex, Hertfordshire and Devon). He was chair of the Devon Association of Teachers of History in the 1980s. After a spell as an advisory teacher for primary history in Essex 1990-1992 he was a lecturer at Marjon in Plymouth until 2011. In 2007, supported by Marjon, he studied at three universities in New Zealand and visited some of the places associated with Patteson's time there. He is Secretary of the Exeter & District Branch of the Historical Association.
Friday February 18th 2022
Sally Ayres –  'In Plain Sight:   The making of an exhibition' 
Sally Ayres has curatorial responsibility for the Decorative Arts in RAMM's collections which includes musical instruments, ceramics, glass, silver, clocks, guns and furniture and is the co-curator of the forthcoming RAMM exhibition In Plain Sight: Transatlantic slavery and Devon.
This is a major exhibition exploring the museum's and Devon's links with centuries of trading enslaved African people across the Atlantic. The exhibition investigates aspects of the transatlantic slave trade that are all around us, but for some remain 'hidden in plain sight'. Since 2018, RAMM has been working with a network of researchers and experts to shed light on this hidden history.
Using the museum's collections and contemporary sources, In Plain Sight traces the local industries that relied on the trade and the lives of the people who benefitted from its profits. It also features a newly commissioned film which reflects on RAMM's iconic painting 'Portrait of an African' and a new commission by the acclaimed artist Joy Gregory. Gregory has worked with the museum team, the exhibition's advisory panel and local community members to create a work responding to the themes of In Plain Sight.
Friday March 25th 2022
Dr Robin Wootton – 'Beginnings and biology in the DEI. The legacies of William Elford Leach' 
Robin Wootton is a retired zoologist, entomologist and biomechanicist, and occasional palaeoentomologist.  He taught at Exeter University for 41 years, retiring in 2002 as Reader in Insect Biomechanics. His primary research field was insect flight mechanics, with particular reference to the functioning and engineering of insect wings, an area which he and his students pioneered.   Towards the end of his career he took a largely passive interest in the application of insect flight mechanics to the development of small flying robots – Micro Air Vehicles. He is still an Honorary Research Fellow, which probably makes him the University's longest-standing member.
Since 1968 Robin has been a member of the Devonshire Association for the Advancement of Science, Literature and the Arts – a unique, 157 year old organization dedicated to the understanding and appreciation of every aspect of Devon (www.devonassoc.org.uk) through research, publication and discussion. He was Chairman from 2008 to 2014, and active in strengthening the Association, broadening its coverage and raising its profile; and initiating two new special interest Sections – Music and Industrial Archaeology – to complement the six that already existed. He organised the Association's first ever art exhibition, in Exeter from 9th – 26th October 2014, and planned a major symposium and celebration of historical and cultural links between Devon and Newfoundland in 2017, led by the DA in collaboration with the Devon Family History Society. He is on the committees of the Association's Literature and Art Section, Music Section and Entomology Section, and is due to be the Association's President in 2021. Currently researching the reactions of 19th century Devonians to Darwinism and other scientific advances, for his forthcoming Presidential address.
Robin remains in contact with entomologists, palaeoentomologists and biomechanicists worldwide. He lectures widely to a variety of audiences, primarily on aspects of animal flight, insect wings and evolution, and folding structures from origami to beetle hindwings, and occasionally on animal illustrators and historic naturalists.