Archive Display Programme
Our archive collection of displays are now available as downloadable PDFs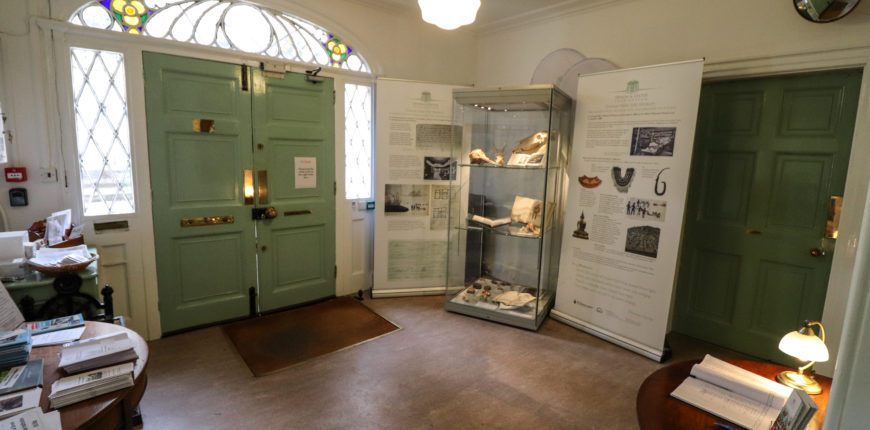 Our co-curated displays are created in collaboration with our members, University partners and volunteer researchers and are presented at the DEI before travelling to other sites.
These 'pop up' banner displays are available as loans, for other organisations to borrow free of charge.   Please contact Emma Dunn, Director of Programme for details.
Coming soon – German Dreams and Dreamers –  in collaboration with  the University of Exeter School of Languages.
Display Archive
Books of Wonder (2019 – 20) – The Natural History collection at the DEI
A downloadable version is available here: DEI Books of Wonder 
Collecting the World (2018-19) – The Institution Museum and the origins of RAMM
Displayed at RAMM in 2019 / Displayed at the Respect Festival in 2019
A downloadable version is available here: DEI Collecting the World
The Victorian Art of Persuasion (2018) – The 1868 Exeter election caricatures
Displayed at Devon Heritage Center in 2019
A downloadable version is available here: DEI Victorian Art display 5
Russians in Devon, Devonians in Russia (2017-18)  – To commemorate the Centenary of Russian Revolution
Displayed at the Keep Museum in 2018 – In collaboration with the department of Modern Languages, University of Exeter
A downloadable version is available here: DEI Russians in Devon 
Raising the Roof  (2017) – Documenting our major roof restoration in 2016
Displayed at St Martin's Church in 2018  
A downloadable version is available here: DEI Raising the Roof
Devon and the Middle East (2016 – 17) – An exploration of the DEIs Islamic collections
Displayed at the University of Exeter /  Displayed in the Central Library 2018 / Displayed at the Respect Festival in 2018/ Displayed at Exeter day St Nicholas Priory 2019 
A downloadable version is available here: DEI Devon & the Middle East
The Houses of Cathedral Close (2016)  – The significance of Exeter's Medieval Quarter
Displayed  at Exeter Cathedral and St Martin's Church
A downloadable version is available here: DEI Houses of Cathedral Close
Funded by the National Lottery Heritage Fund and The University of Exeter