Why not join us?
What is the DEI and how do I join?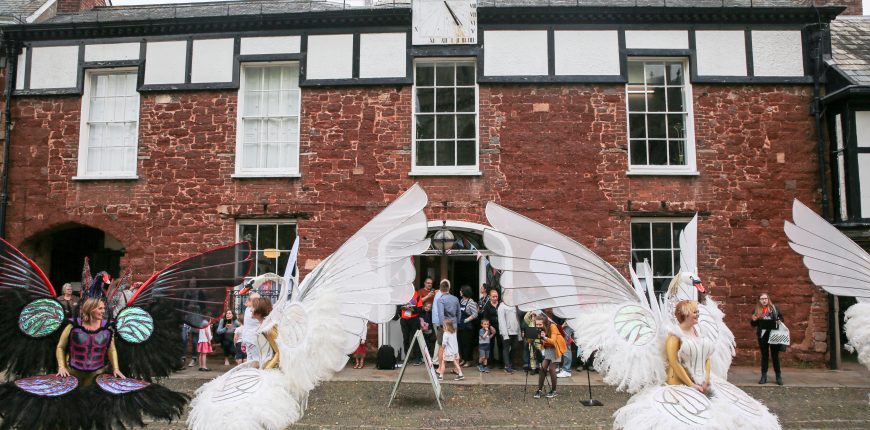 What is the DEI and how do I join?
The Devon & Exeter Institution, established in 1813, is a subscription library and educational charity, dedicated to looking after our 'Age of Enlightenment' Library and Reading Rooms. These have altered little since the Institution opened, with the aim of 'promoting the diffusion of Science, Literature and the Arts.'
Despite its old-fashioned name, the DEI is a busy and purposeful place, frequented by people with lively, intelligent minds. Situated in the centre of Exeter in the historic Cathedral Close, it is easy to find and an ideal meeting place for members and their friends.
The DEI is supported by donations and annual subscriptions from its several hundred members, who are also free to use its facilities 6 days a week – this for the equivalent of just £1.80* a week.
*Based on current annual Individual Membership of £93
How to enjoy the DEI
For many of our members, the DEI is simply a home-from-home. Where else in the centre of Exeter can you take a break from the High Street or your office, make yourself a coffee, settle into a deep armchair, read a newspaper or periodical, and plug in your laptop – away from the rush of city life? For £1 on the day – and that's for the mug of coffee. On your way out, you can borrow a film, at no extra charge, from our collection of 600 DVDs. What's not to like!
You may choose to take lunch in the homely Courtenay Room at the rear of the building where Mary, our housekeeper, provides tasty and modestly priced meals between 12 and 1.30pm, Monday-Fridays. She even puts the day's menu on the DEI website. You can bring one or two friends – only let Mary know in advance, so she can reserve a table for you.
Research and study
The DEI is, of course, a Library at its core. You are welcome to handle the many books and periodicals on the open shelves (well worth exploring). Most non-reference volumes – at least, those less than 100 years old – are available for members to borrow. The Library continues to acquire books and materials on Exeter and Westcountry subjects.
Usefully for researchers, the DEI offers access to The London Library's vast collection of on-line newspapers and specialist journals.
What else happens here?
The DEI runs regular events, educational and recreational. These include lunchtime lectures (often on topics of local interest), and evening talks across a wide range of subjects – these latter doubling as social events with food and wine to follow. Anne, our Librarian, organises a series of informative monthly 'Saturday Snippets.' On these occasions DEI members, with specialist knowledge of our collections, explore items from among the Library's periodicals, prints and other materials.
There are two book-reading groups, and a monthly cinema club showing recent movies and established classics. Occasionally members enjoy out-and-out social events. Depending on the season, these might involve an evening of live jazz, a Devon cream tea, or a Christmas glass of punch, serenaded by local singers.
From 1813 to now
The DEI has survived remarkably intact since it was set up. It pre-dates, inter alia, Exeter Central Library, the Royal Albert Memorial Museum, the University of Exeter – and Penguin paperbacks (invented at Exeter St David's station). So its original intentions might have become obsolete were it not for the loyal appreciation by its members over the last two centuries.
The DEI's finest architectural features are the Outer and Inner Libraries, each with a fine cupola (or lantern) overhead to bring in the daylight. These twin rooms have distinct functions – the Inner Library for study and research; the Outer Library for current affairs and conversation. The latter is often converted to hold audiences of up to 40 for talks, lectures, films and the occasional music performance.
Though we cherish our historic setting, Victorian chairs and old portraits, members are not expected to adopt 19th century (or even 20th century, come to that) modes of behaviour. You are welcome to instal your post-Millennium laptop on any available table-top and the building has Wifi throughout.  We have up-to-date scanning and photocopying facilities  and one computer terminal exclusively for members' use.  Members may wish to take their own digital images for a fee of £10 per day, providing that the material is not for publication.
Providing a peaceful environment for contemporary learning within an Age of Enlightenment setting presents the DEI's trustees with certain challenges, but this quiet aim is one we wish to maintain in perpetuity.  We therefore request that all users abide by the Library's code of conduct, respect the privacy of fellow members – and speak on mobile phones only in the foyer or outside the building.
Who are our members?
Our members, across all age ranges, mostly come from Exeter and the wider county of Devon, though we have supporters from further afield, in the UK and beyond. At a first glance you might get the impression that the DEI is inhabited mainly by retired people, but you will soon discover that our users include many undergraduates, enjoying an alternative to the bustle of the University of Exeter campus. And what better working environment for the self-employed or freelance writer?
The DEI is a familiar haunt of academics and notable specialists in areas such as archaeology, geography, history, and philosophy. Due to our central location, the upstairs Reading Room is a popular meeting venue for outside organisations. Increasingly, you may encounter studious Junior members, and even (on some Saturdays) a posse of under-8s enjoying various book-related activities. People like you, then!
April 2018