VE Day – Cooking the Books
Today marks the 75th anniversary of VE day, when the allied forces announced Victory in Europe on May 8th, 1945.
Celebrations soon began across much of the Western world. In Exeter, the May 11th issue of The Devon and Exeter Gazette declared the peace celebrations "surpassed expectations." A parade of armed forces personnel marched from Sidwell Street, past the Guildhall, and through to St Thomas, and a special service was held in the Cathedral, beginning with the National Anthem. In Ottery St Mary, fireworks were released in celebration, and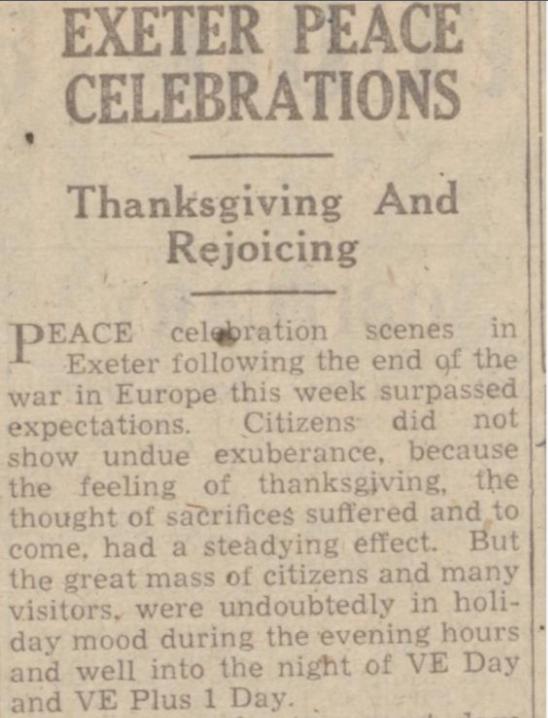 "the old Fifth of November custom of rolling tar barrels was revived."
Throughout Devon, however, it seemed providing an "open air tea" for children (or "those under 14"), was particularly popular, and spreads were laid out in Silverton, Budleigh Salterton, Starcross, and elsewhere. This is perhaps not surprising given Devon's long connection with the traditional cream tea- there is an anecdote that the practice began at Tavistock Abbey around 997AD. After the Abbey was ransacked by Vikings, the local people helped restore the building, and were provided with bread, clotted cream and preserves as a reward for their hard work. In honour of VE day, here are a couple of scone recipes that you can try out to make your own celebratory cream tea at home:
These recipes come from "The Woman's Book," from 1911, a beautiful hardback volume edited by Florence B. Jack and Rita Strauss, professing to contain "everything a woman needs to know." The recipes are in pounds, ounces, teaspoons and tablespoons, as is reflective of the time!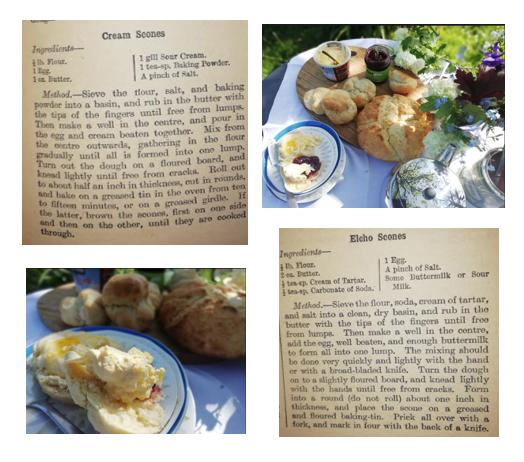 If you are struggling to find eggs at the moment, never fear! I tried a recipe for vegan scones for which you would need:
475g plain flour.

1 tsp bicarbonate of soda

1 ½ tsp baking powder

50g caster sugar.

85g soya milk (or other milk if dietary requirements do not apply)

1 tablespoon apple cider vinegar

Add some dried fruit to make fruit scones!
Preheat the oven to 200c, mix together the flour, baking powder, bicarb, sugar and a pinch of salt in a bowl. Add the butter, and rub in with your fingers. Pour milk into a jug and stir in the apple cider vinegar, Add the milk slowly to your bowl. Mix into a dough. Line a baking tray with baking paper and sprinkle with a little flour. Form your dough into small balls, knead into the flour a little, place in the oven and bake for 10-12 minutes.
Whichever recipe you try, I hope, as on VE day, baking gets you into a bit more of a "holiday mood."
Bethany Howell and Stephanie Beddoes, Saturday Activities Coordinators