Travels in the Boudoir; or, how to travel the world while staying at home
If you are beginning to tire of the present lockdown you may perhaps find some solace in this little book of travels in the boudoir, or how to travel the world without leaving the house - something, it would seem, that women especially were rather good at in the early 19th century.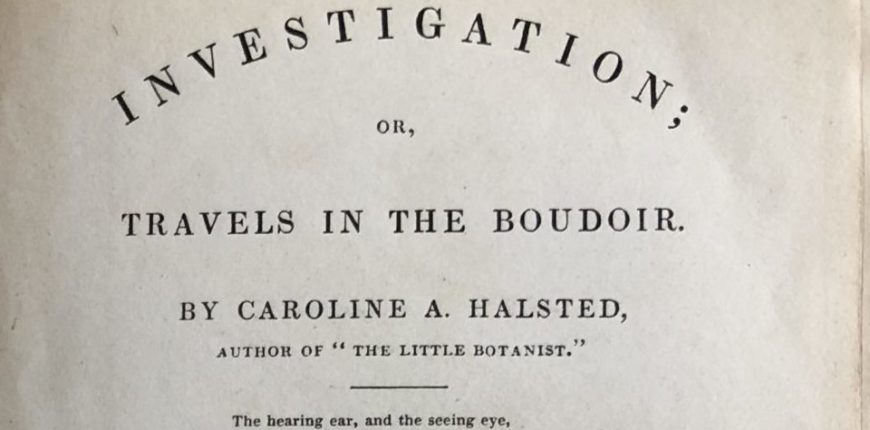 Investigations; or, travels in the boudoir (1837) is a home education manual that, chapter by chapter, takes the reader on a world-wide Grand Tour via the everyday objects in the closeted world of a woman's private sitting-room:
'… the ivory-ruler, which is made of the tusk of an animal; the glass-inkstands, so prettily cut and neatly formed; the rose-wood of which the desk is made, and the brass-work with which it is inlaid, and so beautifully ornamented. Who would have imagined that a little writing-desk was connected with so many arts and sciences, or could afford subject for so much inquiry and such amusing information!'
At the beginning of the book we are introduced to the young Agnes who, flicking through the pages of an atlas, expresses her regret that, unlike her brother, she was left at home while her family toured the Continent:
'it was unlike you and dear papa to leave me at home, and take only Walter with you, – when it would have made me so happy, and have been such a wonderful improvement to me, to have accompanied you also.'
Her mother does not address the disparity in the opportunities offered to Agnes and Walter, though it comes as no surprise that a family in 1837 might invest in the son at the expense of the daughter. Instead, the mother makes light of the advantages of Continental travel and suggests that Agnes has little understanding or appreciation of the connections that can be made 'with the commonest articles even in your own house'. She challenges her daughter: 'it would take you a month to travel profitably even round my room!' When Agnes replies that 'to tread over every inch of it, would be at most but a ten minutes' occupation' her mother immediately begins her education with the carpet beneath her feet: 'I very much doubt if you could describe the process used in making it'. Agnes concedes that on 'a rainy day it would be very entertaining', and in return her mother assures her:
'I am doubtful, if you do not find when Walter returns for the holidays, that not only you are more edified by your tour round my room than he was by his tour in France, but also that you will be able to puzzle him with many questions relative to things he saw there, but of which, for want of previous information, he retains but an imperfect idea.'
The author, Caroline Halsted (1803/4-1848), was responding to Enlightenment ideas in home education, especially a new thirst for scientific knowledge.  She begins with an investigation of the Kidderminster carpet in the school room. One line of enquiry leads naturally to another – from its manufacture and materials to its history and design – and the discussions take them from Kidderminster to Axminster, and from there to ancient Greece and the 'expedition of the Argonauts under Jason, for the conquest of the Golden fleece.'
Another day, a discussion of wallpaper takes in the gilded papers of Germany; even the summons to tea does not disturb their lesson but offers 'another opportunity of examining papier machée; for the red tray, on which your tea equipage is placed, is also composed of that material …' A lesson on idolatry takes them to Egypt; on porcelain, from China through Sevres to Swansea; on the art of writing, to North America. Tapestry takes them to France with a detour into poetry: Thomas Gray's allegorical ode, 'The Bard'.
From our modern viewpoint we might conclude that there is no substitute for travel and for experiencing the world at first-hand, but Agnes's mother offers a different perspective:
'you are acquiring a desire of general knowledge, a feeling I wish to encourage, because one subject leads so insensibly to another, that by pursuing the chain of inquiries into which you will naturally be led, and gratifying the desire of information this will as gradually create, your mind will be enlarged, your character strengthened, and a habit of observation induced, which must in itself create a fund of amusement for future years…'
The Monthly Review agreed:
'… in short before the room is half circumnavigated, the handsome little volume is filled to overflowing with excellent matter – such also as is sure to attract the young mind. The work is, indeed, one of the best we have ever seen for exciting the curiosity of the persons for whom it has been composed, and this excitement, will meet with precious knowledge.'
Today, Agnes and Walter would almost certainly have travelled the Continent together; even so, there are many aspects of the book that resonate with modern life, especially at the present time.  I love its careful consideration of, and appreciation for, what is truly important in life – the small comforts of everyday life, too often taken for granted:
'We are too apt, dear Agnes, to consider as unimportant those things that are abundant and in daily use; and to deem it waste of time to bestow thought or attention, on articles … which we do not appreciate, because having happily not been deprived of them, we have never felt the want of the comforts they afford us… when you lay your head on your pillow, and reflect more particularly on your own happy home, on your freedom from undue restraint, on the many comforts you enjoy, and the mercies vouchsafed to you, – you may … view yourself as one of a community unusually blessed, protected and endowed!'
I am drawn, too, to the mother's lengthy discussion of Mary Queen of Scots, who endured over eighteen years of imprisonment, including long periods of isolation. Tapestry was her 'greatest solace' – a 'varied occupation' that kept her busy and diminished periods of sorrow:
'… for nothing adds so much to the pang of anxiety as yielding to the restlessness it occasions; nothing subdues the whole human frame more than time watched and waited for.
By tracing the progress of her work from day to day,
'… Mary beguiled the tedium of her imprisonment; and created for herself an object of daily interest even in a state of captivity …'
We are all faced with having to beguile the tedium of isolation and confinement as we watch anxiously and wait for time to pass.  Libraries are here to help.  If you are stuck for ideas of things to do, or are looking for 'an object of daily interest', or just want to connect with other people, why not browse our Isolation Creations page? There's lots to do, whether you're 2 or 102.  And do keep in touch via Facebook or Twitter – we'd love to hear from you.
Emma Laws, Director of Collections and Research
Did you know? Though it was not customary for women to undertake a Grand Tour of the Continent, a few did. In 1784 Jane and Elizabeth Parminter set off on a 'daring' Grand Tour with their cousin, Mary, and a friend, Miss Colville. When they returned in 1795, the Parminter sisters built the sixteen-sided house, A la Ronde, in Exmouth to house their souvenirs.