The Royal Record
Our collections are full of surprises. August's Book of the Month was discovered by one of our volunteers, Tony Rhodes, while working on the heritage collection in the Outer Library.
One of the many joys of working in the library at the Devon and Exeter Institution is the feeling of serendipity, a word which I thought was American in origin but which was, in fact, coined by Horace Walpole in 1754.  Serendipity sprang to mind when I stumbled upon The Royal Record, a large, elegantly bound volume of over 640 pages.  My curiosity was aroused: is this to do with a royal musical recording career?  Maybe a secret criminal record?  Perhaps an attempt to get into the well known Guinness Book of Records?
In fact, however, it is a complete record of every tree planted in the United Kingdom, the British Empire and the United States by many worthy, and some no doubt not so worthy, citizens to mark the coronation of King George VI in 1937.  From a single tree to an avenue a mile long, all were faithfully recorded by the Coronation Planting Committee:
'The following pages are a notable tribute of loyalty and affection … the method adopted allowed the smallest hamlet to bear its share in the commemoration; a tree, a single tree would be planted where circumstances or space permitted no more.  Elsewhere the scheme would be more ambitious, and we read of an avenue being laid out a mile long, of fifty cherry trees being planted by fifty schoolboys – of a group here, a grove there, even of a little forest of twenty thousand trees; and, of course, the variety of trees and shrubs is immense … The tree is the longest lived of all living things on earth, and has been happily chosen to symbolise profound respect and deep gratitude for the Coronation Solemnity of Your Majesties'.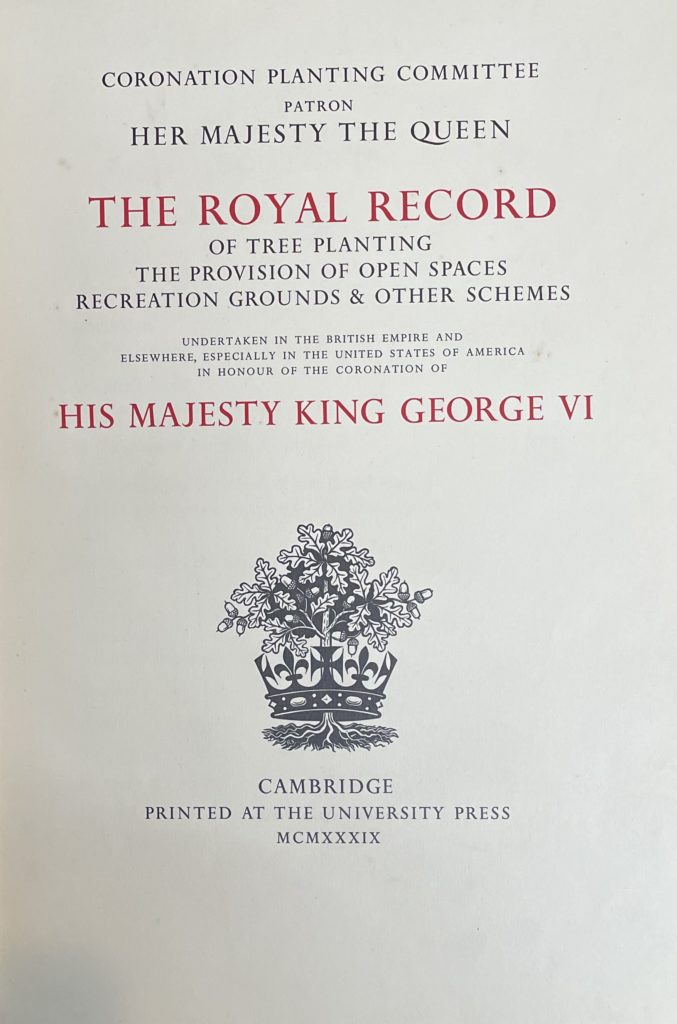 Tree planting in the United Kingdom is listed by county; in London, the parks and open spaces are included and Exeter and Plymouth are noted as county boroughs.  If you live in Devon, you may like to check to see if any of the following are still alive and well:
Ashburton: a Pink May tree on an open space adjoining the war memorial.
Bishop's Nympton: a Copper Beech tree planted at Parsonage Cross.
Cheriton Bishop: two Oak trees by the war memorial.
Drewsteignton: 45 Wild Cherry trees scattered throughout the parish.
Does the Royal Avenue, a double avenue of White Horsechestnut trees, still thread through the King George V grounds in Exmouth?
If you would like to see if any trees were planted in your locality come along to the Library Desk and staff will be happy to retrieve the book for you.
Tony Rhodes
Library Volunteer