German Dreams and Dreamers – Exhibition showing 19 May -31 July 2021.
Works by Caspar Walter Rauh and Steven Bramble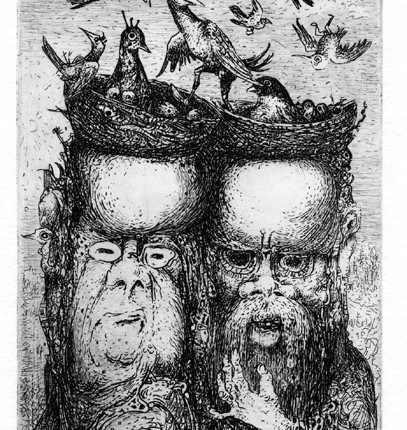 Eyes Wide Shut
German Dreams and Dreamers
This exhibition was inspired by a conference on the theme of  Dreams, Visions, and Somnambulism in German Literature, Art, Medicine and Philosophy 1750-1835.  
A discussion of the work on show has been filmed as part of the Institution's Library Lecture Programme, is available here.
With thanks to:
Prof. Ricarda Schmidt (University of Exeter)
Steven Bramble (Artist)
Prof. Hans-Walter Schmidt-Hannisa (National University of Ireland, Galway)
Dr. Sheila Dickson (University of Glasgow)
This exhibition is supported by the partnership between the Devon and Exeter Institution and the University of Exeter.
Eyes Wide Shut
German Dreams and Dreamers
Conference (postponed due to the pandemic)
Taking dreams as our focal point, we intend to explore how altered states of consciousness (ASC) have been conceptualized in German culture from the 18th century onwards.
In the period from 1750 to 1835 ASCs have been perceived both as a danger to the sovereignty of the individual, and as a force to challenge an ossified regime of reason; as a source of creativity, and as a gateway to new insights and even higher metaphysical realms. An analogy of literature and dream was posited, and new anthropological paradigms such as magnetism and empirical psychology emerged, which, in turn, became the object of critical investigation in literature and art.
The impact of the conference was to be extended by curating in parallel an art exhibition, open to members and visitors to the Institution.  This consists of a German and a local Exeter painter's responses to authors and texts of the period under discussion: engravings by Caspar Walter Rauh (1912-1983) and oils, watercolors and acrylics especially produced for this occasion by Steven Bramble (Exeter).
Caspar Walter Rauh (1912-1983)
C.W. Rauh studied at the art academies in Düsseldorf and Leipzig. He worked in Berlin as a freelance artist and employee of an advertising agency. What he saw during World War II, when he served in the army as a cartographer, mostly in Poland and Russia, had a big impact on his art. After 1945 he and his family lived in Upper Franconia. C.W. Rauh worked in the tradition of Fantastic Realism and Surrealism, and was influenced by German Romanticism. He illustrated classics of fantastic literature by E.A. Poe, Mary Norton, Jean Paul and E.T.A. Hoffmann.
This exhibition presents C.W. Rauh's work for the first time in the United Kingdom.
Steven Bramble
Steven Bramble is a portrait painter, printmaker and the creator of a 'company' of puppets. He studied at Harrow School of Art and the West of England College of Art in the 1960s. He has been a teacher and illustrator and loves mountains and bicycles. He lives in Exeter and works at Veronica Gosling's 'Studio 36'. He painted, for this exhibition, portraits of the major German writers of the period in oil, acrylic and watercolour. Furthermore, he was inspired to illustrate dream-like aspects of some of their texts.
Image: A Lively Exchange of Views (In lebhaftem Gedankenaustausch).Caspar Walter Rauh