Rescue a book – coming soon!
Our team of Library volunteers, trained and supported by the South West Heritage Trust, continue a busy programme of cleaning shelves and books. We are working with a local specialist bookbinder to prioritise books for repair - but we need your help to ensure that the Institution's unique collection is preserved for future generations.
How do I rescue a book?
Below are some examples of books in need of rebinding.  The books have been selected by the library team based on their knowledge of the collection.  However if there is a particular title that you would like to adopt please let us know.
Choose the book that you would like to rescue or make your own selection.
Choose the amount that you would like to donate.
Complete the donation form on the Adopt a Book leaflet which can be found in the library or you can print a copy here: Adopt a book leaflet and form
Return the form with a cheque made payable to Devon & Exeter Institution 2 marked for the attention of LIBRARIAN.
In return
for your donation you will receive
A certificate of thanks
A personalised bookplate attached to the inside cover of your adopted book, once it has been fully restored.
Western Times
We have three volumes of this newspaper which are in urgent need of attention.
"The Western Times grew out of the Exeter Weekly Times which was established in 1827 . The proprietors felt that the county was wanting in a "free and independent Press in which liberal principles might be boldly and fearlessly avowed and advocated". It was a rival to the Conservative Trewman's Exeter Flying Post. Encouraged by the increasing circulation, they changed the title to the Western Times to appeal to a wider audience out with Exeter .The paper became the Western Times on 3 Jan 1829, was still 4 pages long and cost 7d. Proprietor James Terrell brought in Thomas Latimer as sub-editor. Latimer had worked on various papers in the Devonshire area, but had been sacked from the Exeter and Plymouth Gazette for being rather too radical in his views. Latimer took over as owner and editor of the Western Times in 1835 and his views were reflected in his paper. He was a supporter of parliamentary reform, penal reform and abolition of death penalty and campaigned tirelessly for local government transparency and accountability and against all forms of oppression and injustice."
(The British Newspaper Archive).
Digital copies are available from the British Newspaper Archive, https://www.britishnewspaperarchive.co.uk/
but as members are aware the collection of original newspapers to be found at the Institution form a special part of the collection and the restoration of these volumes would ensure there survival for future generations.
Western Times 
January – March 1914
Cost of restoration £550.00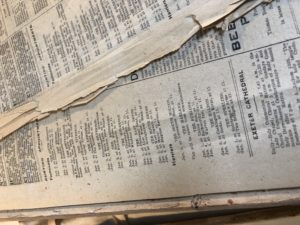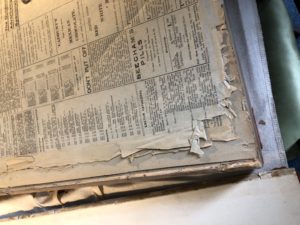 Western Times
October to December 1904
Cost of restoration £550.00
Western Times
October to December 1915
Cost of restoration £550.00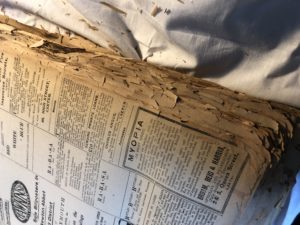 If you would like to make a contribution to the restoration of these volumes please contact Emma Laws in the library.