A tale of dread
Palk, Sir Lawrence, The hunt of the pilgrim and Sir Courtenay Carew: A tale of dread, (1857). Classmark: S. W. Heritage 1857 PAL
October's Book of the Month blog was researched and written by Prints and Drawings Volunteer Becky Rae.
As a print researcher, my work at the DEI currently involves spending time with the array of portraits held in the collection as part of the Our Region Revealed project, learning about local historical figures and their various characters every week. My favourite aspect of undertaking this research are the mysterious rabbit holes I get to tumble down, weaving warrens across the collection and beyond. I was recently working on a portrait of Sir Lawrence Palk, a Baronet and M.P. for South Devon between 1854 and 1868, with strong links to the area of Torquay. During my research, I found a strange listing in the catalogue, bearing his name as the author of a book with a most shadowy title. Obviously, I had to investigate, and, luckily for me, the book could be found a mere few feet away in the Inner Library as part of the South West Heritage Collection (it is 165 years old, after all.)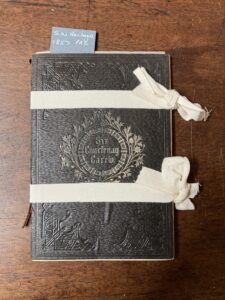 Published in 1857, this strange little book, measuring 18cm by 12cm and only half a centimetre thick, suffering some spine damage (understandable given its age) seems, at first glance, entirely unobtrusive and inoffensive. The cover is bound in black leather, with patterned indents and the name 'Sir Courtenay Carew' emblazoned on the front within a circular seal surrounded by floral motifs. Presumably originally gilded in gold, this has now worn away to a pale shadow of highlight, although gold gilding along the edges of the pages has retained much of its original glimmer. Wrapped in archive ribbon, the book reveals approximately 25 loose pages, and it is landing here on the title page that the cold of the library begins to creep up on you, and a shiver finds your spine as the centuries old ink still boldly announces the book's title: The Hunt of The Pilgrim and Sir Courtenay Carew: A Tale of Dread.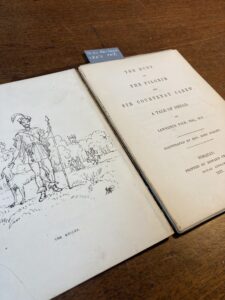 From the very first page, you are immediately transported to another realm, a time of knights and castles through an illustration of an upright, proud, and steadfast individual petting his faithful dog who stares lovingly up at him, simply titled 'The Knight'. This is the first of six wonderful illustrations that accompany the text, credited to one Reverend John Parlby. Next, a preface bears a note from the author, providing some extremely useful context as to the reasons behind why Palk published such a thing. He states that:
 In turning an old legend into verse, and offering this little volume to the public, I hope I may be of some use in aiding the cause of Charity, and the funds of the Consumption Hospital. – Lawrence Palk, Haldon House, Dec. 29th.
Aha. Torquay, described as "the southwest asylum for diseased lungs",  had long been visited by those sick with tuberculosis, hoping the South West climate would aid in their recovery, and Palk, who owned land near the town (he was a Baronet, after all) gave up ground rent for the land and garden on which hospital wings could be built, making it likely the consumption hospital he hoped to raise money for was the Western Hospital for Patients of Consumptive Tendency, founded in 1850, and later becoming the Western Hospital for Incipient Consumption. Text also reveals the book was published locally in Torquay by Edward Croydon, so one can assume it was sold and distributed to the local community and beyond. Why Palk chose this rather gruesome tale we can only speculate; perhaps the escapism it offered provided patients with a short distraction from their illness, and its weighted Christian themes of goodness and chivalry may have offered some comfort for those facing their final days. Or perhaps its moral duty lay in persuading survivors to live a slightly less hedonistic lifestyle. One thing's for sure – it's the perfect tale to delve into as the days grow shorter, the nights draw in, and Halloween approaches on the misty horizon.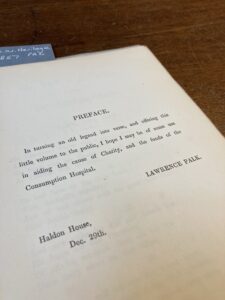 The tale, told in rhyming verse, consists of eight cantos. We are introduced to the character of Sir Courtenay Carew, a "Knight of high degree". The Courtenays and Carews were noble families with a longstanding connection to the South West, owning the seat of Haccombe in Newton Abbott (the building of the DEI itself was once leased to the Courtenay family.) However, it's likely this Knight, living at Tiverton and Bickleigh, was a fictional creation by Palk based on an "old legend" that he mentions in the preface. With references to the Holy Land and British fealty throughout, we can assume the action takes place during the reign of King Richard I and after the Crusades in which our chivalrous Knight fought so valiantly in (he is later described as proudly wearing a red cross upon his breast and that King Richard's Queen gifted him two milk-white hunting hounds of ancient blood.) We are told that he is familiar with hunting on Dartmoor, however only a few of his companions dare to join him for "the Devil reigns there" – easy to imagine if you know that chilling landscape. Indeed, there are references throughout to particular towns, rivers and sites of interest specific to Devon and the wider Exeter area.
As the tale unfolds, so does your sense of unease. Despite the rhyming verse implying this could be a children's story, the content grows darker and more gothic by the page. A strange figure known only as The Pilgrim appears in the Knight's court one day and challenges him to a wager: that no hound can beat his own giant black beasts in a hunt, claiming the Knight's soul as his prize. The Knight, drunk and not fully comprehending what this dark figure has in store, agrees, and states that they will ride out the next day. That night, our Pilgrim, for whom Palk leaves a footnote ("I refer my readers to the "Vampire"), is called to the rough and open landscape of Dartmoor, "Where Haytor's rocks embrace the sky, Where storm cloud Witches wildly fly."
Here, in a moment reminiscent of Shakespeare's Macbeth, a group of witches warn the Pilgrim that he will not win his wager, for the Knight's soul is simply too pure. With this knowledge, he commands the witches to bring forth the Goddess Hella, known in Norse mythology as Queen of the Underworld, an archetype of the Crone. She arrives in a "glare of lightning" where "strange forms with demon faces flock" and casts a spell so that anyone who rides the Pilgrim's horse other than himself, will come to harm. Upon the "rosy morn" of sunrise, Hella, the witches and the demons all disappear.
The next day, the hunt begins, and after a long race in which the Knight falls behind, his horse, Bickleigh, dies in a tragic accident. Despite this, he is able to slay the great stag of their quarry, and rejoices in his victory. But the Pilgrim (who had planned this all along) persuades the Knight to mount his mare, and Hella's spell leaves the Knight a phantom, roaming the moor on a demon horse and "never more was Courtenay seen".
But the story doesn't end there. Back on Dartmoor, Hella returns with her demons and witches to converse with the Pilgrim, stating that she had given him leave to tempt as many souls as possible to sin, but that to have done so with the Knight, "Who'd won the Cross's aid" was too big a crime, and "in his stead you shall begin to suffer from this hour." True to her word, he is pounced upon by her demonic crew, who drink "his blood like rain" and fight each other for his limbs. Yikes.
Palk ends the tale with a plea – essentially, don't get drunk – and then you'll never be tempted by anything, won't end up gambling your soul away and you can go to Heaven in peace. The stress throughout on Sir Courtenay's good and Christian soul against the cruel and evil spirit of the Pilgrim, against the backdrop of a witch-laden moor, fits within the popular genre of Victorian Gothic literature of the time. As Jack Clark states, "these texts…often scrutinized and critiqued social and cultural structures…and simultaneously sensationalised them with…immorality and grotesque monstrous forms…using art as a tool for social education and moral enlightenment." Christina Rossetti's Goblin Market would be published two years later, using similar rhyming verse and dark fairy magics as the setting for her narrative poem. Given that Byron, Shelley and Elizabeth Barrett-Browning had spent time in Torquay to recover from tuberculosis, perhaps Palk took gothic inspiration from their works – and perhaps they purchased a copy or two of his tale to help aid the hospital. Sadly the DEI records can't tell us that, but what they can tell us is that the print of a man lying in a box labelled 04642 whispers across the shelves to the very book he wrote, hoping that his reader would be so chilled by the threat of nearby blood-drinking demons, witches and vampires that they'd never again imbibe – I suppose that's why they call it the demon drink.