A successful exploration through the interior of Australia
William John Wills, 'A successful exploration through the interior of Australia : from Melbourne to the Gulf of Carpentaria', (1863). Classmark G 40.
This Book of the Month blog was written and researched by trustee and library volunteer at the Devon and Exeter Institution, Shane Cormie.
Whilst the name William John Wills and his story may not be familiar to many people in Devon, he is well-known in Australia. The story of the Burke and Wills Expedition or to give its official title, the Victorian Exploring Expedition is one of those heroic failures documented in history books, art and poetry. The poem The Lost Explorers appeared in the Sydney Morning Herald of 1 December 1861 and is included in this publication.
Whilst Burke and Wills were the first Europeans to cross Australia from south to north, they died on the return journey. Consequently, there was a Royal Commission into the tragedy. Their epic journey did lead to the discovery of vast grazing lands resulting in further European settlement in the interior.
As with all non-fiction it is important we understand who the author is and whether, in this instance for example, their relationship with the subject, influences their take on history. In the book, the editor, Dr William Wills  Senior would obviously want to uphold his son's reputation. In the book which he edited Dr Wills states that this is "unexaggerated statement of facts." The contents do not contain a complete copy of Wills' journals and letters and we should ask, "What has been left out?"  Whilst not all journals and letters from the expedition survive, there are numerous records contained within the Burke and Wills Web digital research archive. Some original material is in the care of the State Library of Victoria (Melbourne) and the Australian National Library (Canberra.) Further references to "Wills" here relates to William John Wills to avoid confusion with his father.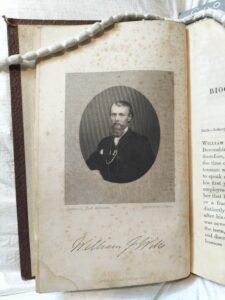 Wills was born in Totnes on the 5 January 1834, the son of William Wills and Sarah Mary Elizabeth Wills (née Calley.) Educated at St Andrew's Grammar School in Ashburton, he was articled to his father, a member of the Royal College of Surgeons.
Together with his father, Wills visited the Great Exhibition in 1851. It would appear that this may have been the trigger for an interest in the Australian colonies. This interest was also shared by his father who purchased shares in a Melbourne gold-mining company. Wills and his brother, Thomas arrived in Australia on 3 January 1853 followed soon after by their father who practiced in Ballarat (Victoria) assisted by Wills. Wills would later go on to study surveying and also became an assistant at the astronomical and magnetical observatories in Melbourne under Professor Neumayer. This post and his connection with Neumayer would lead Wills on the path to becoming one of Australia's early (European) explorers. Neumayer was on the Expedition Committee and Wills tells us that Neumayer also goes to the opera. Is this showing us that he is a man of culture and enjoys some European pastimes in a colony that was only established in 1835?
We get an insight into nineteenth century travel to Australia with Wills' observations during those 95 days at sea. Wills describes seeing sperm whales, albatross and off Tristan da Cunha, Cape pigeons. When they reach Cape Otway (Victoria) he likens its appearance to that of Berry Head in Devon. It is unfortunate that during the later expedition Wills does not give a detailed description of birds and other wildlife along the route, though his writings about the temperature and landscapes are numerous. He describes the water of Cooper's Creek (also known as Cooper Creek) as the colour of floodwater in the River Dart. He does complain that "flies are very numerous. I can do nothing….wear a veil and when eating the only plan is to wear goggles."
Wills' mother objected to him undertaking the expedition however he replies that "I should be glad to have the chance of departing this life fairly in the execution of an honourable duty."
The expedition left Melbourne on 20 August 1860 with a grand farewell and reception with the Mayor and other dignitaries. It was witnessed by around 15,000 people. The DEI has within its collection a copy of the Illustrated London News of 1 February 1862 which gives some details of the expedition.
Whilst this book focuses primarily on Wills we should not forget that the expedition team was more than just Burke and Wills. Others survived whilst some others succumbed to the same fate as Burke and Wills. At the Royal Commission most of the explorers came under scrutiny but Wills appears to have been largely exonerated. His father claimed that Wills "fell victim to incapacity and negligence not his own."  Dr Wills does not spare his words or thoughts. In one passage he says of a Dr Macadam, "I sincerely trust that it may never be my fortune to come in to contact with him again, in any official business whatever."
Wills writing his observations of Australia's First Nations people is not an easy read, which is difficult to understand given that these very people assisted the expedition when they got into difficulties.
The book describes in detail the progress of the group and their various camps en route, the disagreements, the misfortunate circumstances that occurred but for many the interest will be in the findings of the Royal Commission, Wills' last letter to his father, and the letters and condolences published at the end of the book. These range from the Governor of Victoria, the President of the Royal Geographical Society, to Devonians in Australia and those back in Devon.
Burke and Wills were given Australia's first state funeral on 21 January 1863. Wills was 26 when he died. Both men are buried in the Melbourne General Cemetery.
If you would like to view this book in person, find out how to make an appointment here. You can also support the library by adopting this book.